2023年德国电梯展/INTERLIFT
日期:2022/11/30 10:51:41 来源:融合展览 浏览量:
interlift 2023年德国电梯展/德国电梯展
World's leading trade fair
for Elevators
THE HOME OF ELEVATORS
展会时间:2023年10月17- 20
October 2023, Messe Augsburg
展会地点:Venue - Halls:Augsburg Exhibition Centre
Halls 1, 2, 3, 4, 5, 6, 7 and Cube 8 + 9

The world's leading trade fair for the elevator industry was a huge success. 350 exhibitors and 11,800 visitors rated the interlift 2022 excellently, according to the representative survey conducted by Gelszus Trade Fair Market Research.
世界领先的电梯行业交易会取得了巨大成功。根据Gelszus Trade Fair Market Research进行的一项代表性调查,350家参展商和11800名观众对2022年展会的评价非常出色。

Proportion of top decisionmakers remains high Even in difficult times, interlift attracts visitors from all over the world. 11,800 experts from 89 countries learned about the innovations and trends in the industry. At 54%, the foreign share was only 3% below the figure for 2019. n 68% of the visitors are decisively or co-decisively involved in procurement decisions! Another 17% are involved at least in an advisory capacity. n Nearly one in two comes to prepare or secure an investment. n 30% have already made deals at the show, one of the best figures in recent years!
顶级决策者的比例仍然很高,即使在困难时期,这一活动也吸引了来自世界各地的游客。来自89个国家的11800名专家了解了该行业的创新和趋势。外国游客占54%,仅比2019年的数字低3%。68%的游客果断或共同果断地参与采购决策!另有17%的人至少以顾问身份参与。n近二分之一的人来准备或确保投资。n 30%的人已经在展会上达成了交易,这是近年来最好的数字之一!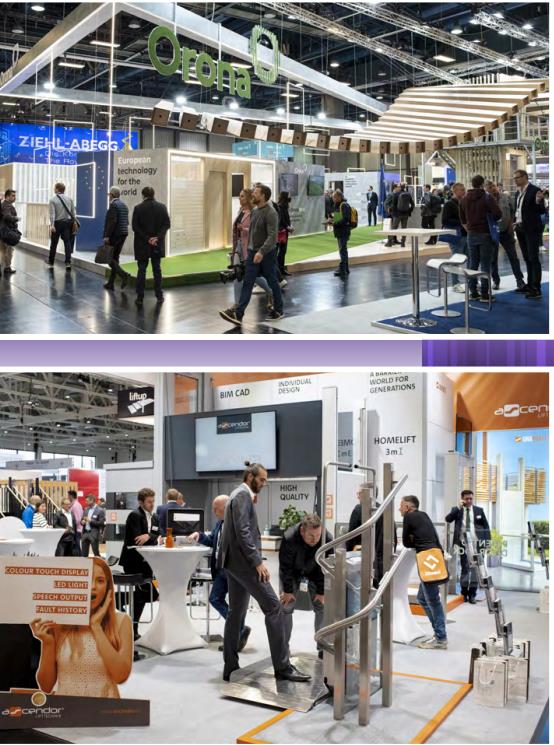 The Top 20 countries of interlift visitors* Germany 38,3 % Italy 7,6 % Switzerland 4,9 % Spain 4,4 % Sweden 3,6 % United Kingdom 3,5 % Austria 2,9 % Netherlands 2,7 % Turkey 2,6 % France 2,4 % Poland 1,9 % Czech Republic 1,8 % Greece 1,8 % Belgium 1,5 % Denmark 1,5 % Norway 1,4 % Finland 1,4% Israel 1,4 % Hungary 1,4 % Croatia 0,9 % interlift 2023 Top – The business results of the exhibitors at the interlift 2022 Even in difficult times, the interlift is the most successful platform for the elevator industry: The vast majority of exhibitors were very satisfied both with the business results of their participation and with post-fair business: n 74% awarded the marks 1 («very good») 2 («good») and 3 («satisfactory») for the business results of their participation in the trade fair. n 78% expect «very good» to «satisfactory» post-fair business. n More than 100 exhibitors of the interlift 2022 already registered at the fair for the interlift 2023! VFA Forum interlift 2023: Innovations, trends, perspectives The information platform of the VFA-Interlift e.V. – perfect complement to the trade fair offer. Exhibitors can also use the VFA Forum interlift 2023 free of charge for the presentation of interesting innovations and problem solutions (www.vfa-interlift.de). * According to the evaluation of the guest cards registered at the interlift 2022
展品范围:
电梯系统和预制构件
自动扶梯和自动人行道
停车系统
电梯部件
操作和显示元件
控制和调节系统
监控和安全系统
小屋
齿轮箱
门
绳索
水力学
配件
贸易出版社
协会
Range of exhibits and Side plan
Lift systems and prefabricated components
Escalators and moving walkways
Parking systems
Lift components
Operating and display elements
Control and regulation systems
Monitoring and safety systems
Cabins
Gearboxes
Doors
Ropes
Hydraulics
Accessories
Trade press
Associations